Interactive
Virtual Graduations
Give Grads a Commencement Day They Deserve
Recognize your students on their special day with interactive and engaging graduation ceremonies for family and friends wherever they may be. 
Our virtual event experts will provide you with the perfect online venue for all your commencement activities… and the best after-party!
Let's Put An End To Boring
Virtual Graduation Ceremonies
Stop canceling, postponing or simply modifying your graduation plans due to current restrictions. Instead, bring your end-of-year online events to life with our avatar-based virtual platform. Keep the magic alive by making your event unique, innovative and engaging. 
Bring Everyone Together in One Place
Invite each graduate's family and friends, include the most influential guest speakers and have them connect from anywhere in the world. There's room for everyone in the 3D virtual world.
Customize Scenes for your Ceremony Venue
Choose from hundreds of base scenes that you can customize to include your school colors, mascots, logos and anything else that will make your venue feel like an actual addition to your school or university.
Life-Like Avatars with Personalized Gowns, Tassels, Stoles and Cords
Design your cap and gowns just like you would at the real event! Include your school colors and logos.
Individually Confer Diplomas On Stage
Honor grads as they cross the stage when their name is called. Present their picture, name and majors on the big screen so everyone can see and celebrate their achievements.
Recognize Honorary Students and Speakers
Hard work deserves full recognition. Call stand-out students on stage and present them with their well-deserved medallions. Invite important guest speakers to livestream their inspirational words from anywhere in the world.
Interactive Breakout Activities and After-Parties
What's a graduation without a PARTY?! Allow students, teachers family and friends to talk, interact or take part in some Trivia. You can include Networking Stands, Escape Rooms, or even hire a DJ or contract a band to dance at a live concert.
Let's Put An End To Boring
Virtual Graduation Ceremonies
Pre-Ceremoney Gatherings & Activities
You decide who can access the venue when and where so participants can take part in pre-grad activities. Grads can get their cap and gown sorted and check their regalia is right. It's the perfect time to classmates to connect one last time to make some memories together. There are rooms for talking and networking, others for interactive games and activities, like Escape Rooms and Wipe Out! And don't forget to strike a pose for a memorable photoshoot in front of your soon-to-be alma mater's colors.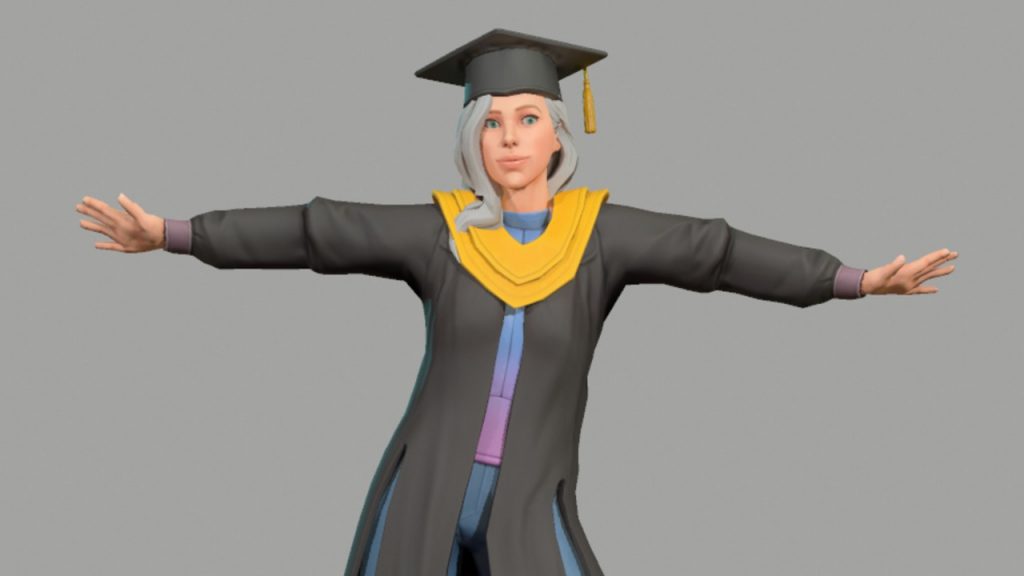 Livestream the Entire Commencement Ceremony
Include the entire order of ceremony. Fire up the Pomp and Circumstance, livestream a greeting from the President and Dean, play pre-recorded speeches from guest speakers. Honor each graduate by calling their name and they themselves, as their avatar, will walk on stage to formally receive their diploma from their college president. The complete order of ceremony can be made virtual and livestreamed directly into the platform. 
Interactive Networking Activities
After the Recessional, move everyone to different areas for a virtual toasts and networking. You can provide private rooms or even include a fair with interactive stands about post-grad programs. Let family and friends alike have some fun partaking in some virtual activities like board games, Escape Rooms, virtual Clue, or even see who can cross the finish line first in the Maze!
Your avatar doesn't just talk, walk and wave… it also knows how to DANCE! Bring social hour to the graduation ceremony. Our customizable virtual concert room is the perfect place for live music, fun and dancing.
Virtual Alumni Network Meetups
The virtual world lives on forever career advisory services don't stop the minute graduation ends. Alumni can meet back up here sporadically or for planned events. Program interactive webinars about post-grad courses. Put up stands for job fair inquiries. The university and the alumni can use this space for all of their post-grad needs.
Frequently Asked
Questions
Yes! Anyone, anywhere, any time zone. Users can connect from mobile phones, tablets, PCs or Macs.
We use our own 3D technology to provide each user with a quality experience. The Voice over IP technology works like a walkie-talkie and the audio is spatial. As a result, the entire speaking and listening experience is just like in real life. All you need is a headset with a microphone to communicate in the virtual world.
Tell Us More About your Online Graduation Ceremony and Let's Talk Details
We will send you an email with more info and an invite to a live demo